Another year of excellent Year 11 results
The Rowans AP Academy celebrate yet another year of superb results and bright futures
#inspiringchangeforabrighterfuture
Year 11 pupils at The Rowans are celebrating having all achieved accredited qualifications, leading to their next steps of further education, apprenticeships or employment with training.
After the disruption and uncertainty of the past few years, there have been some huge success stories. All Year 11 pupils have achieved well with 88% of pupils achieving 5 or more recognised and accredited qualifications including English and maths GCSE. This includes Mya, who achieved 11 qualifications in total including grade 7s in GCSE Art, Photography, Textiles and Media, a grade 6 in GCSE DT and a Level 2 Merit in Constructing the Built Environment and grade 4 for both English and maths. Another pupil, Billy, achieved 10 qualifications, including maths, English, science, statistics, art, photography, textiles, travel and tourism and DT. Both young people have overcome huge personal difficulties and their outstanding results are testament to their hard work and a commitment to their futures.
All pupils have a post 16 destination and Katie Martin, Head of post 16 pathways and careers, said "Our pupils have achieved so much during their time at The Rowans, some have been with us for less than a year and have worked hard to achieve. All pupils will follow a pathway which is suited to them individually, and I am pleased to be working so closely with our colleagues in other provisions. Both Mya and Billy are going on to Mid Kent College to study Level 3 qualifications, I am so proud of them both.
The Rowans AP Academy takes pupils who have been permanently excluded or at risk of permanent exclusion from local mainstream schools. This provision, rated Outstanding in all areas by Ofsted in November 2021, provides pupils with an opportunity to re-engage with education and aspire to achieve and succeed. Head Teacher, Fiona May said, "These results are testament to the hard work and commitment of both the pupils and the amazing staff team who work tirelessly and selflessly to ensure that all pupils are inspired to achieve. At The Rowans there is a strong commitment to learning, support and progress and this has ensured that pupils continue to exceed national expectations for Alternative Provision and achieve exceptional outcomes. We will now celebrate the success and look forward to the coming academic year with optimism, knowing that The Rowans continues to deliver the best possible provision for pupils across Medway."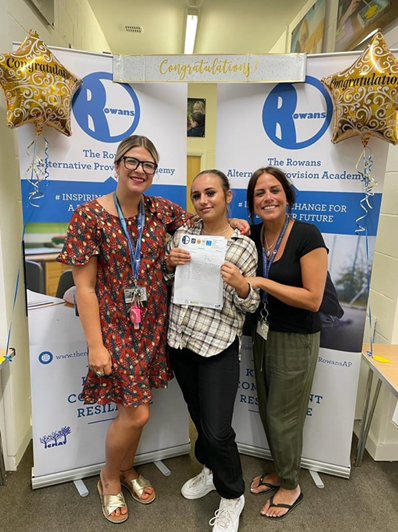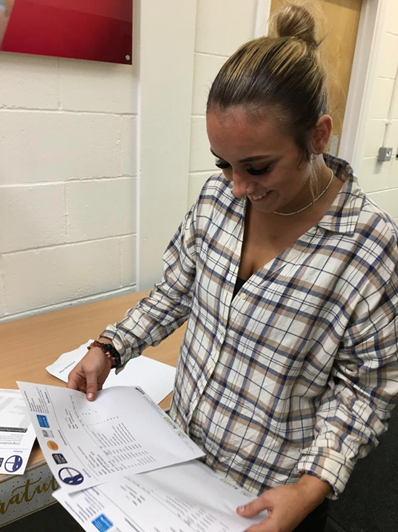 Mya opening her results and celebrating with staff on results day