Lego Therapy
"It's good to have some quiet time to think about things and I love Lego"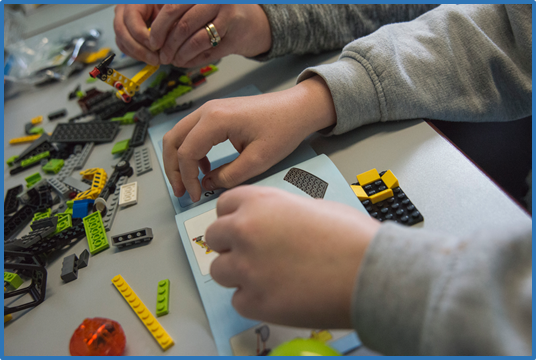 Lego therapy is a social development programme that aims to "provide an effective social development intervention for children with autism spectrum conditions and other conditions affecting social competence." Playing with Lego in a social setting can draw out children's hidden abilities to cooperate with others. The Lego allows pupils to "not only construct models but to construct social skills as well".
Lego therapy shows an impact for pupils with Autistic Spectrum conditions, anxiety disorders, social adjustment difficulties, and stigma, childhood abuse/neglect/trauma, and social isolation, physical or sensory disabilities. This therapy improves independent social motivation and social competence. It needs both social interaction and communication with peers, and gives an engaging, inviting and safe experience for children who find peer group settings a challenge.
Lego therapy can be a collaborative play therapy where children work together to build Lego models in teams of two or three or it can be an individual therapy where pupils have the opportunity to think, reflect and explore their thoughts and feelings.