Year 11 Sleepover
On the evening of 13th October year 11 started the annual Early Halloween Sleepover.
The evening started with pupils pumpkin carving, where Miss Rivate and her carving helpers aided the pupils in carving a haunting or funny pumpkin face. The results were great as you can see from the photo.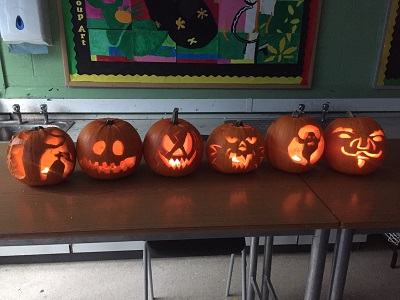 Whilst this was happening Mrs Redford and Mrs Smith were busy cooking our lasagne dinner. We all had dinner together and really enjoyed the delicious food.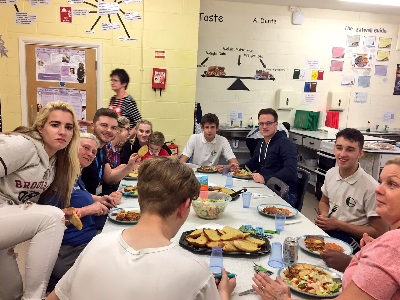 After dinner, we go into teams with our two team leaders; Mr Nolan and Mr Prescott. We went in the hall and played silly games such as; apple bobbing, Make the skeleton and eating doughnuts without using your hands!
There were times that we were laughing so much we were crying. Watching Leon trying to finish his whole doughnut without touching it was incredible and then seeing 3 people eat off of the floor just to ensure their team had the best chance of winning showed tremendous commitment to their teams.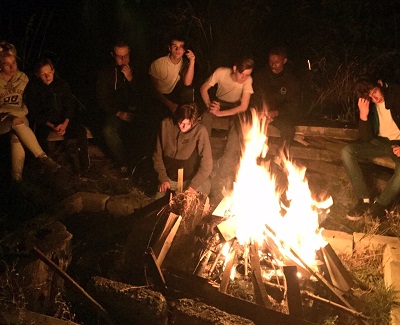 We then went out to Jurassic Park where Mr Taylor had made us a bonfire. We sat and kept warm together and toasted marshmallows in the roaring flames.
After the bonfire Mrs Johnson joined us for scary movie time, some of us went in the hall to watch a scary movie and some decided it was a bit too scary and decided playing FIFA was much more fun!
At 12 it was time to get beds ready and start to settle down. As you can imagine this took time and we eventually got everyone to sleep (well quiet enough for us leaders to sleep) at 2am!
After a little and different sleep, we woke up at 7am when Mrs Smith came in to make us bacon rolls for breakfast. These were a welcome treat and gave us the energy we needed to start our school day.
Fun was had by all and the tradition has once again been kept alive. Year 11 are coming together as a real family and it was great to spend time together outside the normal school routine.